Technical Data
Pre Engineered Building Components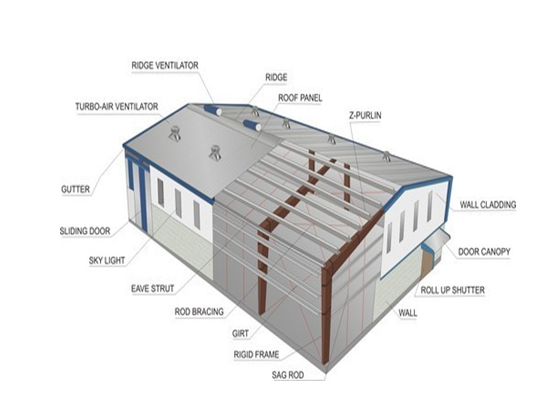 Continuous Sandwich Panel-Redefining Construction
Satmax sandwich panels are typically single piece, factory made units which consist of an insulating layer of rigid Polyurethane Foam or Rockwool between two layers of mark sheets.These panels have unique tonque and grove joinery for air and water tight, effective panel to panel interlocking make it easier and quicker to install and providing an effective seal. All joints are covered with flashings and sealants. steel structure framing are provided where every necessary as per user customised design.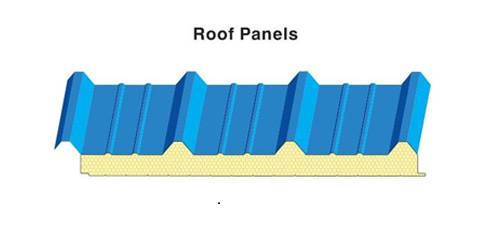 Why Insulated Sandwich Panel ?
High Thermal Insulation
Usable as structure panel for wall & roof.
Closed Cellular Structure-inherently water resistant.
Available in any lengths depending upon logistic convenience.
External and internal steel facing best effective vapour barrier.
All weather proof and sustainable.
Self extinguishing-avoid spread of flames in case of fire.
Resistance to Corrosion, termite and fungus.
CFC free and zero ozone depletion property.
Product Range
Wall Panel Thickness(mm)
30,40,50,60,80,100,120,150
Roof Panel Thickness(mm)
25,30,40,50,60,80,100,120
Material Specification
| Characteristic | Availability |
| --- | --- |
| Insulation Thickness | 30mm to 150mm |
| Insulation Type | PUF, PIR, Rockwool |
| Panel Type | Tongue & Groove, Cam Lock |
| Outer Skin | PPGI, AL, SS, FRP, GI, PPGL |
| Inner Skin | PPGI, AL, SS, FRP, GI, PPGL |
| Sheet Thickness | 0.3mm to 2mm |
| Skin Type | Plain, Ribbed, Corrugated |
| Colour | Customised |
Basic Properties Of Insulation Cores
Material
Description
Characteristics

PUR
Rigid Polyurethane Foam
Most popular, widely used, ideal insulator. It is thermosetting material when exposed to fire, does not drip or melt; forms a strong carbonaceous char that protects the core and prevents spread of flame. Additions of FR agents further augment fire retardant properties. It is CFC free & self extinguishing. Conforms to IS-12436-88.
PIR
Polyisocyanurate Foam
Offers higher fire rating and is non-ignitable. Better closed cell structure offered by trimerisation process offers better thermal performance. It is CFC Free, longer lasting, hygienic and food safe. Ideal for Cold Rooms.
ROCKWOOL
Rockwool
Naturally occurring fibre with very high temperature resistance properties. It is fireproof, emits no smoke or gases, is water repellant & Non-capillary. The process re-orientation of vertical fibre structure imparts high Shear, Compressive and Tensile strength, thus making the Panels strong and stable. Rock wool with excellent acoustic properties is chemically neutral, vermin proof, re-cyclable and bio degradable. Ideal for Partitions, Internal walls, Acoustic Insulation, and FR & HT applications for Power Plants etc. Conforms to IS-8183.
K Values Of Different Insulation Material
Material
Thermal Conductivity W/m.k
Density KG/M3

Polyurethane
0.020
32
Polystyrene/Thermocole
0.037
30
Glass Wool
0.041
65~160
Polyethylene
0.0348
32~38
PU Panel Properties
Characteristics
Value

Temperature Range
-40oto +80oC
Density
40 +/- 2 kg/m3
Compressive Strength
110 – 210 kPa
Adhesion Strength
110 -210 kPa
Tensile Strength
370 kPa
Water Absorption
0.2% Max. At R.H98%
Water Vapour Permeability
5.5ng/pasm
Thermal Conductivity
Less than equal to 0.02 W/m.K at 23oC
Fire Property
Self Extinguishing*
Dimensional Stability
0.1% at -30oC
Closed cell Content
>95%
Shear with Metal Sheet
160 kPa
Rockwool Properties
Characteristics
Value

Bulk Density
100+/-10% Kg/m3
Moisture Content
2.0 Max %
Moisture Absorption
2.0 Max %
Water Absorption
0.5 Kg/m2
Incombustibility (%) Loss
3.0 Max %
Service Temperature
7500C
Alkalinity (PH)
7 – 10
Shot Contents
Over 250 Microns
15.0 Max %
Over 300 Microns
5.0 Max %
Chloride Content
0.0020 Max %
Recovery after Compression
Min 90 %
Sulphur Content
Min 90 %
Resistance to Vibration Settlement
1.0 Max %
Jolting Settlement
3.0 Max %
Comparison Of Processes
Variables
Particulars
Continuous Process
Dis-Continuous Process
1
Production Process a) Foaming
Automatic Continuous
Manual Batch
2
Volumes
a) Quality Consistency
b) Cell Structure
c) Foaming
d) Pouring
e) Moisture ingress
High Capacity
Assured
Closed
Uniform
Open
Not Possible
Low Capacity
Not Assured
Not Fully Closed
Non- Uniform
Closed
Possible
3
Chemical System
On-Line Blending
Pre- Blended
4
Customization
Not Possible
Possible
5
Restriction On Lengths
No Restriction
Restricted
6
PIR
Possible
Not- Possible